Breaking News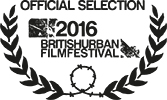 "
And then there was Nothing
" has been selected for the
British Urban Film Festival 2016
!
It will be shown as part of the "
Love Shorts
" programme on Friday,
16 September 2016
at Odeon Camden Town.
You can buy tickets
here
THE DAYS INBETWEEN
A quirky, character-driven dramedy with multiple story lines about Londoners whose lives have come to a standstill.
Audience Award Winner - Feature Film
at the United Film Festival London. Available on
Amazon Instant Video (US)